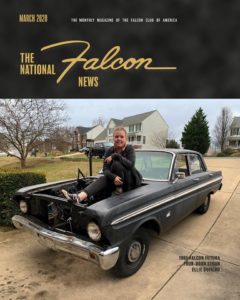 I posted on Instagram and Facebook earlier this week the exciting news that I had been published in this month's edition of the Falcon Club of America's monthly magazine, The National Falcon News. It was an honored to be allowed to write an article for this community that has been so welcoming to be. It was even more amazing to be featured on the cover!
I thought that you might like to read the article that I wrote for the magazine, so I included the text here. I hope you enjoy it!
An Old Car for a New Driver

It might surprise most people that a 14-year-old girl would be this interested in classics cars, but it has always been my dream to own one. After watching my older brother get his license and decide on an everyday driver, it made me really start to think about what I wanted my own first car to be. My dad came up with the idea of restoring an old car in the two or so years I have until I get my license. He asked me if I liked the idea of turning a classic car into my dream car, and I was thrilled. I knew that this would be a big task, because even though I had always been interested in the way things worked, I did not know anything about cars. In fact, when we started I didn't know the difference between a carburetor and a crankshaft!

My parents' proposal was for them to buy the car, but I would have to pay for all the restorations and upgrades that I wanted. They also made it clear that I would be doing the majority of the work. Additionally, they wanted me to document this process so that I could remember well, and so that I could use this experience as part of my education. My dad is a video producer, so he set up a camera in the garage to record everything we did.

We started the process by looking at the different kinds of classic cars that would be good to fix up for a first-time restorer. Happily, we settled on the Ford Falcon and we were ready to start the long process of looking for a car that was affordable enough for us to buy, but not so beat up that it was too much for us to repair.

A few weeks into the process of our search, my dad called me into his office and showed me a car. The car that he was showing me was just what we were looking for, but it had already been sold. I looked at my dad curiously, wondering why he was showing an unavailable car; then he told me that he was the one who bought it. I was so excited! A week later, we flew out to Skokie, Illinois where the car was and drove it all the way home.

My car is a 1965 Falcon Futura 4-door with a straight six 200 engine. It is black with a few surface rust spots on the hood and trunk, but the rest of the car is rust-free. It has tan bench seats and two lap belts that my parents insist we upgrade. The headliner is falling apart, making it difficult to see out of the rearview mirror, and the seats cannot adjust front to back. The battery tray is completely rusted out, and there's no letter 'D' on the word FORD across the hood. All of these issues, big and small, are going to be a joy to restore. I plan to not only fix the outside of the car, but also to overhaul the engine and transmission. So far, my favorite moment came when my dad and I finally took out the engine and began to dismantle it! When I'm done with my restoration, I hope to have a safe, reliable, beautiful daily driver.

Our current goal is to have the engine overhauled and restored in time to drive to Falcon Nationals in Dayton, Ohio in July. I have a lot of work to do before then, but I know that I can get it done. (I just have to remember to do my geometry homework, too!)

We have been documenting the whole process, and I decided to post on social media so that I can share my experience as I learn how to restore this car. Not only has it been exciting to show the process as I figure out how to fix my car, but the response and support has been overwhelming. I love the new community I have entered into. Clearly, Falcon owners are a welcoming and helpful group. I am so grateful for the sweet people that have helped me through this process of finding and working on my car. I can't wait to continue to share this journey with you! Feel free to follow my adventures on Instagram and Facebook @elliesgarage and at youtube.com/elliesgarage.