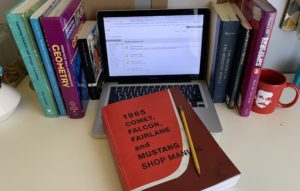 My mom started homeschooling me because my older brother was being homeschooled. Three year old me would sit in while Luke learned kindergarten math and grammar, and I picked up what he was learning. Once it time for me to start school, my parents decided to try homeschooling with me, too. I am so glad that they did. Homeschooling has given me time to experiment in the kitchen and learn in a hands-on way. I have also been able to travel with my family and experience the things that I learned about in history. Education is really important to me and to my parents, but I have been able to learn and discover at my own pace.
One of the many reasons I get to do this project with my car is because I am homeschooled. Because of flexibly with my classes, my dad and I can plan out when we both are free to work on the car, and I can work ahead in my schoolwork to be able to do so. If my dad has a day off of work, or if he can come home early, I will arrange my schedule to be free when he is.
I plan on including an automotive shop class on my high school transcript because of the knowledge and experience that I have gained in the garage. Additionally, I am hoping to use this project as the subject of my college entrance essays. This is why my parents are making me document the entire process on video and in this blog – so that I can remember everything I do and see how I have grown. I'm also getting writing, logic, and public speaking experience through all of the different aspects of documentation. It's easier to write and talk about something that I'm this passionate about.
I am so excited to see where this adventure is going to take me, and thanks to the way I do school, it feels like it will be easier to get to my final destination.